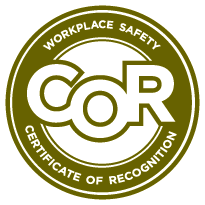 We take pride in our COR Certification, in our employees and make every effort to ensure their safety comes first. Our investment to have a full time certified trainer for Flagging, WHMIS, TDG, Aerial Platform, Telehandler, Fall Protection and COR Auditor is a great asset for keeping our employees safe.
All new employees start off on day one with a full in house MINI DIG CORP safety training orientation and competency evaluation on equipment and driving.
Our support of the laws set forth through OH&S and all governing bodies in Canada ensure our employees go home safe every day after their shift.
MINI DIG CORP
With many different types of mobile equipment our operators are also Certified with two special courses...

Telehandler Certification
Aerial Platform Certification